Welcome to our very first Blog Hop for 2015!
This month we want to help you start the year off by getting organized as you're planning your wedding or event. Get ready for some great ideas to help you reduce stress and enjoy the planning process as you move along through the blog hop.
You may just be starting the blog hop or may have come from #19 Kelly Snyder at Southern Charm Weddings on Natalie's Blog Hop. If you get off track at any time, the full lineup below will help you move along from blog to blog so you make sure to see and learn from all of the articles featured here today.
---
Save Your Sanity – Organize Your Wedding Planning!
I can't tell you how many brides come to me and say "I don't know where to begin". Wedding planning can be daunting, overwhelming and at times frustrating – but it doesn't have to be! It all starts with a little bit of organizing and starting with the big picture.  Below are my five favorite tools for organizing my clients' weddings and for helping them stay organized… and most of them are free! So take a deep breath in through your nose – HOLD IT for a count of four – breathe out through your mouth as you count to four and let's begin! Namaste.
All Your Notes in One Place! – I'm a notetaker, always have been. I have various notepads and scrap paper, post-it's, you name it all over the place. These are my scratch notes that I use when I'm on the phone or on video chat with a client or just doing some research on my own. I always carry a notebook with me in my bag too. HOWEVER, these notes ALWAYS get transcribed into my Microsoft OneNote notebook that I set up for each client. (note: Mac users can also use EverNote, but I prefer OneNote and have it installed on my iPad and iPhone so that I can access my notes anywhere, anytime)
If you don't have OneNote already installed on your computer, you can sign up for a free Microsoft account at http://onedrive.live.com and set it up.
Create separate pages for each aspect of your wedding. On the first page, create a section for the wedding with a master page with all the details and contact information. Then pages that breakdown each section in more detail. For example "Ceremony Details". You don't have to fill everything in right at the beginning – use this as a workbook to remind you of what tasks you have completed and what still needs to be done.
To share your online OneNote Notebook- click on "File" in the upper left gray bar.
If you have OneNote on your desktop or laptop computer, you can synch your folders so that whenever you (or anyone who you've shared your notebook with) posts an item online, it automatically synchs and shows up on your hard-drive. This allows you to collaborate with others and leave notes within your notes! I like to color code questions to my clients by putting them in bold red and/or highlighting them to be sure they are seen. You can do this with your fiancée, maid-of-honor, bridesmaids or wedding planner. As we progress in the planning, we update the notes so that we are all on task. To share a notebook that's on your desktop or laptop you'll need to first be sure that you've created a separate NOTEBOOK that you want to share. Then click on "file" in the upper and "share"
Save it in the Cloud! – Again, I use Microsoft OneDrive to create shared folders for my clients and I to drop in vendor contracts and other files that we both need to reference. This is also a great place to create a subfolder for wedding related receipts to keep everything in one spot. You can use iCloud Drive or Google Docs. To stay organized, create a folder for each event that you are hosting or working on: [Welcome Party] [Rehearsal Dinner] [Wedding Day], etc. By keeping documents in a shared folder, anyone who needs them can reference them and you can reference them remotely if needed on the fly when meeting with other vendors.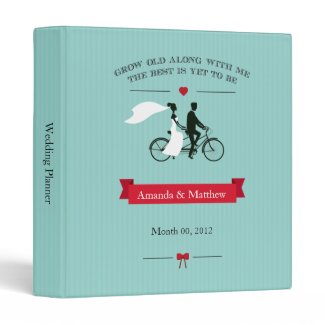 Tandem Bicycle Aqua Wedding Planner Binder
by
PMCustomWeddings
Check out more Wedding Binders at
Zazzle
To Have and to Hold – even with online folders and notebooks, you are still going to want to have a binder or a folder for collecting and holding your wedding related items. I love this cute and customizable binder on Zazzle  – just pick up dividers and folders at a local office store and you're good to go. This is a great place to keep your hard-copy receipts, tear sheets from wedding magazines, signed contracts, etc. Keep things organized in sections so that you can find anything you need quickly.
Pin It Sister! If you haven't heard that Pinterest is the best thing since sliced bread for planning your wedding, then you must not be from Earth. I seriously don't know how I lived before Pinterest!! This is such an amazing and FREE tool and it doesn't have to suck up all of your time. In fact, when used properly, it can actually save you a lot of time. Be sure to create separate vision boards for each aspect of your wedding – don't just create one "Wedding" Board. This will help you to organize your thoughts and narrow down your style. Create a board for "Wedding Hairstyles and Makeup" to keep track of the looks you like for yourself and your bridesmaids. Create a board for "Wedding Flowers" so you can pin not only flowers, but colors you like, shapes of bouquets and other items of inspiration. Download the Pinterest Browser Button for your computer so that when you are browsing online and come across something you like, you can quickly pin it to the appropriate board. This way you'll start collecting your thoughts. Once you go back and look at your boards, you'll likely see common themes, colors and your vision will start to come together. You can even add notes below your pins. And don't forget "Secret Boards" – these are boards that only you and the folks you invite will be able to see. This is a great way to keep certain aspects of the wedding, like your dress, a secret and maintain the surprise.
Visit Something Blue by SunCelebrations's profile on Pinterest.
Facebook Groups – I love Facebook Groups, especially for Destination Weddings! Facebook groups are easy to set up … and free. You can invite just your bridal party or all of your guests (of course they will need to be on Facebook). Make sure to set it as a "secret" group so that only those invited to join will see your posts. This is a great place to set the tone for your wedding, exchange ideas and create excitement! It's also a great way for those coming to the wedding to get to know each other and break the ice in advance. Ask fun questions and get ideas of what you're group wants to do at the destination. Let everyone know you're hosting a "Best" flip flop contest at the rehearsal dinner, etc. Let your guests join in on the fun as the date gets closer.
These are just a few of the tools that I use to keep the weddings and projects that I'm working on organized. Do you have a favorite tool or resource? Let us know below in the comments 🙂
The next stop is #21 Kimberly Parks at KP Photography on Natalie's Blog Hop!
Thanks for visiting and I hope to see you again next month!
Natalie Bradley at Natalie Bradley Events
Katherine Shorter at 

Creating Awesomenessity

Kristi Richardson at 

Bloomed To Last

Chantal Benoit at 

Chantal Benoit Photographer

Elizabeth Batte at 

plainjane designs

Andie Freeman  at 

Andie Freeman Photography

Brenna Fields Taylor at 

An Elegant Affair LLC

Irene Tyndale at Irene Tyndale Events
Tessa Marie at 

Tessa Marie Weddings

Peter Merkle at 

Chicago Wedding DJs

Anshwa Lewis at 

SwaLaRue Events

Deborah Ashe at 

Rev. Deborah Ashe

Angela Christoforo at 

Elite Wedding and Event Planning

Liz Coopersmith at 

Silver Charm Events

Amber Peterson at 

Cheers Wedding & Event Planning

Maggie Evans at 

Maggie Evans Designs :: handmade bridal couture

N'neka Scruggs at 

Images by N'neka

Kelly Snyder at 

Southern Charm Weddings

Cindy Clearwater at Something Blue Virgin Islands <–you are here!
Kimberly Parks at 

KP Photography

Simone R. Ross at 

Lil' Tux N Tiara's Event Sitters & Entertainment

David Osborne at 

Sound Insight Productions

Nicole Hill at 

Flora Bond

Shaun Cox at 

A D.I.Y. Affair Weddings and Events

Katrina McCullum at 

Made of Honor Weddings

Sandy Salle at 

Hills of Africa Travel

Rachel Huntoon  at 

Ashford Manor Bed & Breakfast

Daphne Simpson at 

Elite Design

Kishana Highgate at 

Kishana Highgate Photography

Loraine McCall at 

Mojica Photography

Teresa Rhodes at 

Nearly Nesters 

Andrea Freeman at 

Andrea Freeman Events

Nikki Michel at 

Ciao Bella Weddings

Kelly King at 

Affordable Wedding Invites by Gossett Printing

Christine Ringuette at 

Down The Aisle Wedding Planning & Design

Myiesha Antwine at 

Kiss and Tell Weddings

Ashley Rae at Ashley Rae Events
Laurie Kuerlemann at 

Platinum Party Events Entertainment, Inc

Lydia Wells at 

Writer Mom

Melissa Pepin at 

Melissa Pepin Photography
---
Learn How to Use these Tools Live on January 26th!
Click Here for More Details
Comments
comments